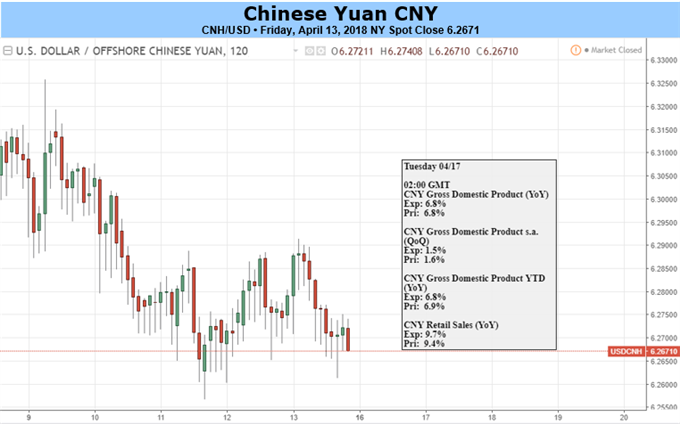 Fundamental Forecast for CNH: Neutral
China's Foreign Minister will attend the China-Japan Economic Dialogue in Tokyo, after it suspended for 8-years.
China has been strengthening connections with other neighboring countries since the end of March.
China will release 2018'1Q Gross Domestic Product as well as March Fixed Assets Investments.
The Chinese Yuan rose against the U.S. Dollar this week, easing last week's losses: Chinese President Xi Jinping touched on a list of topics that the U.S. concerned the most at Boao Forum, from intellectual property rights to tariffs. Although not many brand-new measures were introduced, the move was considered to be a positive signal and welcomed by Trump and the market. In addition, PBOC's newly-appointed Governor, Yi Gang, told that China will not devalue the Yuan to make up for losses caused by trade conflicts; the PBOC has guided the Yuan stronger over the past week.
However, trade disputes between the U.S. and China are far from over. The direct attacks may be on and off, but the two parties have already looked to expand allies to get more leverage. The development could continue to drive the Dollar/Yuan.
US: Trump announced a reconsideration of joining Trans-Pacific Partnership (TPP) on Thursday, a deal he called "rape of our country" and pulled out days after he took office. The pack's members include Japan, Australia and New Zealand, who are US's allies in the Asia-Pacific region; China is not a member of this pack.
Also, the U.S. may release details as early as next week about the list of $100 billion Chinese products, which would be imposed on 25% tariff, according to Wall Street Journal. If that happens, China is expected to take a responsive tariff move accordingly to make up for the losses. This could drag down both the Dollar and the Yuan.
China: the country's Foreign Minister Wang Yi will visit Japan from April 15 to 17, for the fourth China-Japan Senior Economic Dialogue. This is the highest-level bilateral economic dialogue between the two countries. The last panel was held 8 years ago in 2010; the other two were in 2007 and 2009. In terms of trade, China has become Japan's largest import partner in 2016 and the second largest export partner only after the U.S.; Japan was China's second largest import partner and the third export partner.