DOLLAR BULLS SHOW UP AS END OF Q1 NEARS
While equities were on the move earlier in the week with currencies taking a back seat to the action, the roles reversed yesterday as the US Dollar shot-higher while the S&P 500 meandered within a range. The big item over the past 24 hours was a jump of USD strength as DXY rallied back-above the 90.00 level. This strength started to show just ahead of the release of the final read of 4Q GDP numbers out of the US, which were revised higher by quite a bit as we saw that 2.5% number nudged up to the final read of 2.9%.
US DOLLAR VIA 'DXY' FOUR-HOUR CHART: JUMP TO 90.00 FINDS SELLERS AS RESISTANCE SETS IN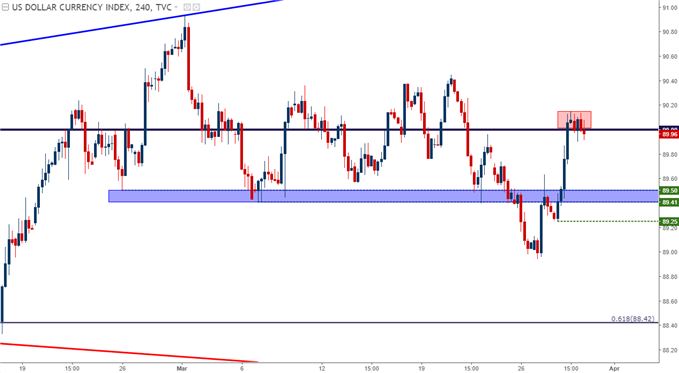 Many are looking for reasons behind such an aggressive counter-trend rally, and while reasons are dangerous for traders, the combination of that GDP print combined with the fact that we're nearing the end of Q1 means that we were likely seeing some element of quarter-end flows driving a counter-trend rally. This could equate to a short-squeeze type of scenario as near-term USD strength adds pressure to existing shorts, creating further bullish demand as those shorts cover-up ahead of the end of the quarter.
But – this is not meant to nullify the move. The jump-higher happened, and this is something that traders would need to accept regardless of their stance or opinion or 'feeling' around the sustainability of USD-strength. This does, however, open up a series of interesting possibilities for those that are looking to trade US Dollar weakness as we near the open of Q2; and for those looking to work with a continuation of USD strength in the event that it actually happens, we look at a short-side setup in NZD/USD at the very bottom of this article.
USD/JPY TESTS LOWER-HIGH RESISTANCE
One of the more responsive pairs to yesterday's US Dollar strength was USD/JPY. This has been a fairly strong trend already in 2018, and we've seen multiple long-term support levels give way or take on additional tests. Just last week we saw a fresh 16-month low print when the pair drove down to find support around 104.61.