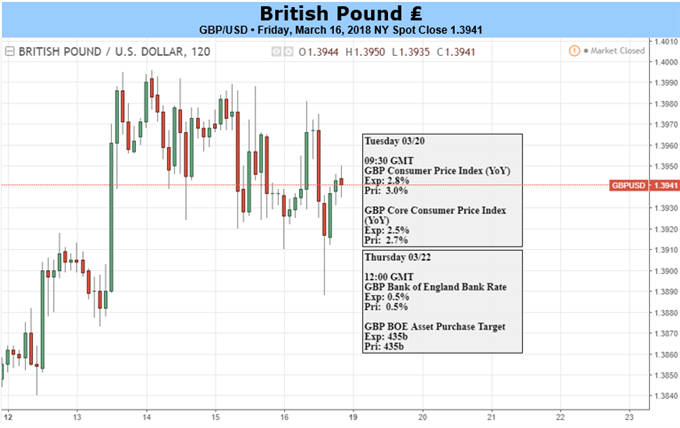 Talking Points:
UK data releases include, Inflation, jobs and wages
Bank of England MPC announcement
EU Council meeting on the EU/UK transition period.
Fundamental Forecast for GBP: Neutral
While we remain neutral on Sterling at this current point, GBP may be in for a rocky ride next week with market moving data points including inflation, jobs and wages as well as the latest monetary policy announcement from the Bank of England. And just to round the week off, the EU Council will meet on Thursday/Friday to discuss the latest EU/UK transition period documents with UK businesses waiting for the outcome.
The latest inflation and wages data may well see the gap between the two narrow further – inflation expected to slip lower/wages expected to tick higher – giving the UK consumer more money in their pocket. The recent negative real wage gap has weighed on the UK retailers in particular and any narrowing of the gap may bring welcome relief to the high street.
The Bank of England is expected to leave all monetary policy levers untouched on Thursday but any change in voting pattern on rate hikes, or hawkish commentary in the accompanying statement may cement a rate hike at the May meeting, boosting the British Pound.
The UK and the EU are targeting next week's EU Council meeting to finalise a Brexit transition period, giving government and businesses the clarity the require to build for the future. While negotiations have taken a slight turn for the better of late, with both sides adopting a more conciliatory tone, there possibility of a last-minute hitch is still very real, an event that would hit both GBP and EUR lower.
GBPUSD PRICE CHART THREE HOUR TIMEFRAME (FEBRUARY 27 – MARCH 16, 2018)