NFP HEADLINE PRINTS AT +313K, AVERAGE HOURLY EARNINGS DISAPPOINTS
This morning's Non-Farm Payrolls data from the month of February blew the doors off, coming in at +313k versus the expectation of +205k. The unemployment rate held steady at 4.1% as the labor force expanded last month; but Average Hourly Earnings came-in at 2.6% versus an expectation of 2.8%. This comes on the heels of last month's AHE print that was originally released at 2.9%, but that was downgraded this morning to 2.8%.
The net response thus far has been a rather meager move in the US Dollar, with a net bias of weakness. Initially a quick move of weakness was bid back to resistance; but sellers showed up quickly to push prices right back to where we were when everything started. Follow-thru price action appears to be pointing-lower, but this is still extremely early to foretell a continuation of the longer-term theme of weakness in USD; and there are still some significant factors in play around the fiscal side of the US economy at the moment.
US DOLLAR PRICE CHART VIA 'DXY': HOURLY TIME-FRAME, DOJI PRINTS AROUND NFP RELEASE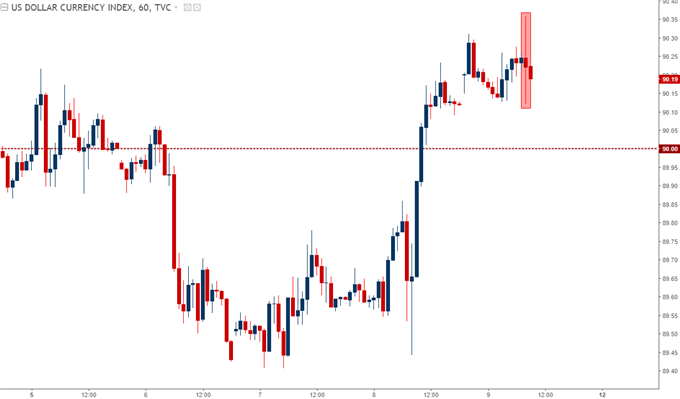 Chart prepared by James Stanley
The fact that there was not a more discernable move of strength highlights the pertinence of inflation data in the United States, particularly in relevance to short-term price action in the US Dollar. Last month saw a spate of strength develop in the Dollar's year-plus down-trend on the heels of that NFP report, driven in large part by the Average Hourly Earnings portion of that release. But since then, the Dollar has been largely directionless as an expansionary range has developed through February that continues to hold as we move deeper into March.
US DOLLAR PRICE CHART VIA 'DXY': FOUR-HOUR TIME-FRAME, RANGE-EXPANSION IN FEBRUARY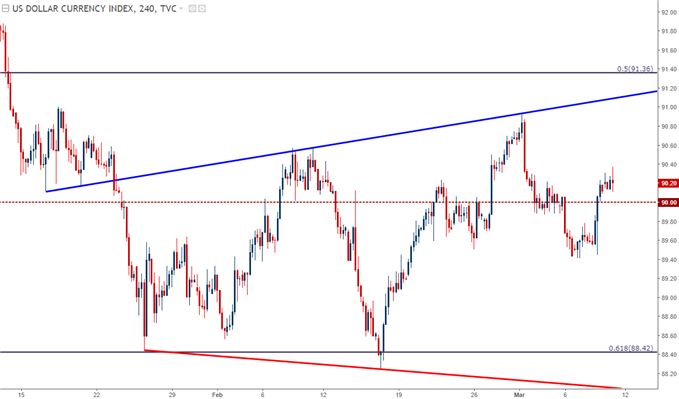 Chart prepared by James Stanley
On a shorter-term basis, the US Dollar has found trouble when trading above the 90.00 level in DXY. Each instance of bullish price action in the Greenback that saw DXY trade above 90.00 last month was soundly faded, and as we open into next week, this remains an item of contention. Notable, however, is how price action in DXY expanded throughout February, offering both a near-term higher-high along with a lower-low; which may be preluding a bigger move, in one direction or the other, as prior support and resistance levels begin to give a bit on each side of the market.