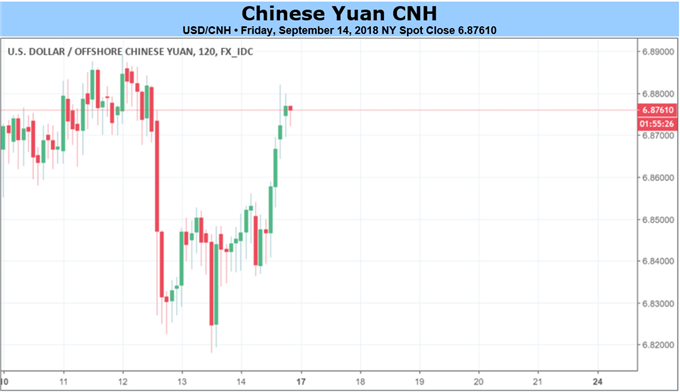 FUNDAMENTAL FORECAST FOR CNH: Bearish
CHINESE YUAN TALKING POINTS:
China seek to retaliate US through sanctions, amid resumed trade talks yet with uncertainties.
Weak Fixed Assets Investment reveals concerns on the effectiveness of China's fiscal policy.
China's Premier Li will speak at Summer Davos Forum and may provide clues to the economic outlook.
The Chinese Yuan extended losses against the U.S. Dollar for the third straight week, with the USD/CNH approaching 6.90 once again. The Yuan also lost to most of other major currencies, except the Japanese Yen. Looking forward, China has a light economic calendar; a major risk will be from the on-going US-China trade war. Also, amid the weak Chinese fundamentals, the Yuan may test the threshold again and look to the PBOC for guidance. In addition, China's Premier Li Keqiang will speak at the Summer Davos Forum, which could answer some heated questions, from the trade war to the economic growth.
US-CHINA TRADE WAR DEVELOPMENT
China told that it is seeking to impose $7 billion annually in sanctions on the U.S. through World Trade Organization (WTO). This is a retaliation against the U.S. as it failed to revoke its anti-dumping measures which was ruled in favour of China by WTO. This is the first time that China submitted such a kind of request against a losing party in a WTO dispute, since it became a member in 2001. The sanctions could make up for some losses from the tariffs on $267 billion Chinese goods that U.S. President Trump threatened to launch soon (assuming the tariff rate is 15%, then the absolute value will be $40 billion).
However, it will still not cover all the losses; the rest could continue to hurt the Chinese economy, with signs of damages already: Chinese August exports figure dropped to 9.8% verse 12.2% in July and 10.0% expected. In addition, the August manufacturing PMI print of Guangdong province, a major export province, dropped to 49.3, the contraction territory (below 50) for the first time since March 2016. In specific, new orders dropped 1.7 to 48.7, the first time in 30 months, hinting a bearish outlook over the following months.