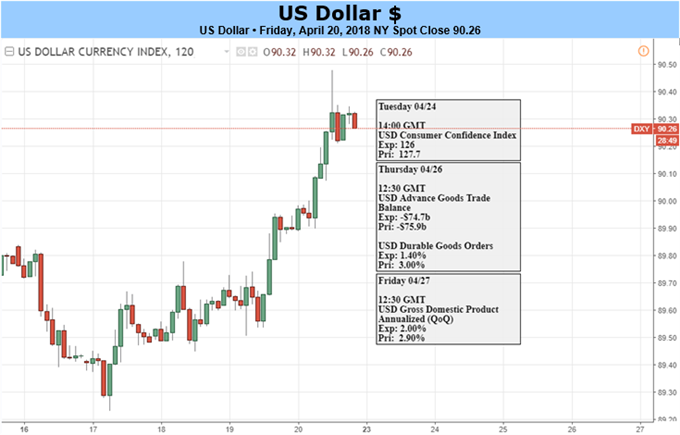 FUNDAMENTAL FORECAST FOR THE US DOLLAR: BULLISH
US Dollar vaults higher as Fed rate hike speculation heats up
Continued gains likely if first-quarter GDP data outperforms
Macro and Merkel visit Trump, Mexico holds president debate
The US Dollar has launched a spirited recovery, producing the largest upswing in nearly three months last week. The move was encouragingly rooted in old-fashioned macro fundamentals rather than fickle geopolitical trends, which have become increasingly influential over currency market price action since the beginning of the year.
A combatively hawkish speech from Fed Governor Lael Brainard – previously one of the most dovish members of the US central bank's policy-setting apparatus – appeared to inspire sharp upshift in tightening bets. The 2018-2019 rate path implied in Fed Funds futures steepened and the spread between 10- and 2-year US Treasury yields saw the largest two-day gain since early February.
Ms Brainard invoked looming "cyclical pressures" – implying a pickup in the pace of inflation – and warned that they would amplified by expansionary fiscal policy. She also cited stretched asset prices and business leverage levels, urging against complacency in the face of growing vulnerabilities. A survey of businesses from the Philadelphia Fed reinforced the point, showing firming realized and expected price pressure.
First-quarter US GDP data headlines the calendar in the week ahead. It is expected to show the annualized growth rate slowed from 2.9 to 2 percent as 2018 got underway. Leading PMI survey data suggests otherwise however, pointing to a pickup in manufacturing- and service-sector activity in the 12 months to March compared with the preceding quarter. An upside surprise may lift the greenback further.
Politics will remain an ever-present danger however. President Donald Trump has scheduled separate meetings with French President Emanuel Macron and German Chancellor Angela Merkel, with the recent US tariff hike and currency manipulation claims likely to feature prominently. Mexico is also set to hold its first presidential debate, which might carry important implications for NAFTA renegotiation efforts.